My Storeroom Software for Windows
Whether it is people, books or equipment checking "items" in and out of locations can be a time consuming and error-prone task. Many organizations use traditional methods like paper and pencil or basic spreadsheets to manage their Items. My Storeroom changes all of that.
Do you need to know the exact locations of all of your Items?
Do you want to have all of your item information at your fingertips ?
Do you need to create a database of your Items?
Do you need to track your consumable items?
| Check Out Screen | Check In Screen | Manage Stock Screen |
| --- | --- | --- |
| Manage Borrowers Screen | Manage Storerooms Screen | Import Data Screen |
| Export Data Screen | Reports Screen | |
My Storeroom is a flexible solution that allows you to monitor the movement of your items. My Storeroom is simple to use.
The user interface was designed by customers. My Storeroom will get the job done quickly and effectively!


My Storeroom Features
| | |
| --- | --- |
| All Item Information Available on One Screen | Full set of built in reports |
| User Definable Data Fields | |
| | Simple, Intuitive User Interface |
| | |
| | Dymo LabelWriter compatible |
| Powerful Data Import / Export Features | Date Stamping of all Item Transactions |
LS-2208 Cabled Barcode Scanner

FEATURES & BENEFITS

The scanning parts of the LS-2208 are positioned near the central core of the grip to stabilize the hand movement while scanning. Together with the large grip, this makes it easier and more comfortable to target the barcodes.

Plug & scan
The auto-trigger feature of the LS-2208 and the complementing stand initiates automatic scanning and allows the user to operate instantly and hands free. Available in USB, RS232 and Keyboard Wedge connectivity options, the LS-2208 can be easily integrated into any host computer system as a plug and play device
My Storeroom Check In / Check Out Software Specifications

The Easiest Software You Will Use
The My Storeroom software is easy to set up and administer. Simply follow the instructions.
Check In / Check Out Items Easily
We asked our customers what they wanted in a software package. They asked for the simplest interface possible. My Storeroom is as easy to use as barcode scanning the Location or Borrower and then clicking "Issue Items" or "Return Items".
Unattended Mode
My Storeroom comes with an Unattended Mode. This means that borrowers can check items in and out on their own. It is as simple as scanning their borrower ID and then scanning the items.

A Full Set of Reports At Your Fingertips
My Storeroom comes complete with a full set of reports: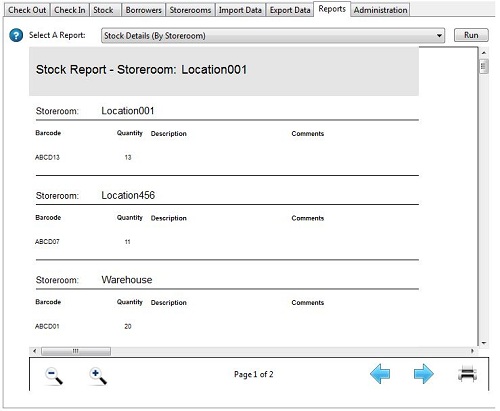 Simple, Intuitive User Interface
My Storeroom offers many simple & powerful features. All Items are displayed on one screen in a data grid that can be easily navigated. Click any item within the grid to display the complete information on that item. Click any column in the grid to automatically sort the information within that column.
Advanced Data Capabilities
Field Names like Description, Location,Due Date, Quantity and Cost are already defined for you. My Storeroom also allows you to define your own field names. You can also define Items as Consumable to track those items that are used in the field.

Barcode Scanner Enabled

My Storeroom has been designed to work seamlessly with barcode scanners. The software has been tested with many of the barcode scanners on the market today.



Full Filtering & Search Capabilities

My Storeroom for PC provides you with different ways to view your data. A full search capability allows you to locate data within your database. A filter capability gives you the ability to view of a portion of your database.
Upload / Download Data to Your PC

My Storeroom allows you to upload and download information from your item database. Powerful Import/Export wizards assist you through the process.

Based on SQL Lite
SQLite is a popular choice for local/client storage. It is a small and extremely fast database. It is arguably the most widely deployed database engine, as it is used today by several widespread browsers, operating systems.

LS-2208 Cabled Barcode Scanner Specifications
Physical Characteristics
Dimensions:
6 in. H x 2.5 in. W x 3.34 in. D 15.2 cm H x 6.3 cm W x 8.4 cm
Weight:
5.15 oz./146 gm
Voltage:
Current:
130 mA typical, 175 mA max
Stand-by Current (USB suspend current)
>500µA
Power Sources:
Host power or external power supply
Color:
Cash Register White or Twilight Black
Performance Characteristics
Scanner Type:
Bi-directional
Light Source:
650 nm visible laser diode
Scan Rate:
100 scans per second typical
Nominal Working Distance:
From contact to 17 in./43 cm on 100% U.P.C./EAN symbols
Print Contrast:
20% minimum reflective difference
Roll (Tilt): 1
1 +/- 30 degrees
Pitch: 2
2 +/- 65 degrees
Skew (Yaw): 3
3 +/- 60 degrees
Decode Capability:
UPC/EAN, UPC/EAN with Supplementals, UCC/EAN 128, Code 39, Code 39 Full ASCII, Code 39 TriOptic, Code 128, Code 128 Full ASCII, Codabar, Interleaved 2 of 5, Discrete 2 of 5, Code 93, MSI, Code 11, IATA, RSS variants, Chinese 2 of 5
Interfaces Supported:
RS232, Keyboard Wedge, Wand, IBM 468X/9X, USB, Synapse and Undecoded
User Environment
Operating Temperature:
32° to 122° F/0° to 50° C
Storage Temperature:
-40° to 158° F/-40° to 70° C
Humidity:
5% to 95% relative humidity, noncondensing
Drop Specifications:
Unit functions normally after repeated 5 ft./1.5 m drops to concrete
Ambient Light Immunity:
Immune to direct exposure of normal office and factory lighting conditions, as well as direct exposure to sunlight
Electrostatic Discharge:
Conforms to 15 kV air discharge and 8 kV of contact discharge
Accessories
Hands-Free Intellistand™
20-61019-01 or 20-61019-02
Regulatory
Electrical Safety:
Certified to UL1950, CSA C22.2 No. 950, EN60950/IEC950
EMI/RFI:
FCC Part 15 Class B, ICES-003 Class B, European Union EMC Directive, Australian SMA, Taiwan EMC, Japan VCCI/MITI/Dentori.
Laser Safety:
CDRH Class II, IEC Class 2
Warranty
The LS 2208 is warranted against defects in workmanship and materials for a period of 5 years (60 months) from date of shipment, provided that the product remains unmodified and is operated under normal and proper conditions. See full warranty for details.